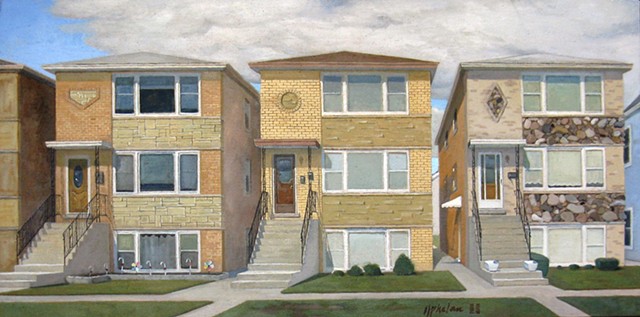 Recent Exhibits
Metro Montage XIX
Marietta Cobb Museum of Art
Marietta, GA
July 13 - Sept. 8, 2019
www.mariettacobbartmuseum.org
22nd International Open
Woman Made Gallery
2150 S. Canalport, Chicago, IL
womanmade.org
Comfort Zones: The Crossroads of Urban and Rural
Miami University Art Museum
Oxford, Ohio
Aug. 28 - Dec. 15, 2018
www.miamioh.edu/cca/art-museum/exhibiti…
I am honored to have participated in this joint exhibit with the well-known rural landscape artist, Eldridge Bagley. The exhibit explored commonalities in the issues and attitudes related to both environments.





As a child I wandered the streets of my hometown mesmerized by its spaces, open to view or hidden--tiny pockets of bungalows, factories, yards. I am still intrigued by the interrupted views and geometric rhythms of my urban environment with its tactile comforts of brick, concrete, mud, and grass. This world that we build around ourselves and think of as ordinary-- the place we call home--is full of the most extraordinary meaning and beauty. An underlying context in each painting is its correlation with a particular hexagram of the I Ching, which can be thought of as providing the character around which the work developed.
Other paintings on this site include landscapes inspired by travels, and an earlier period of collages.